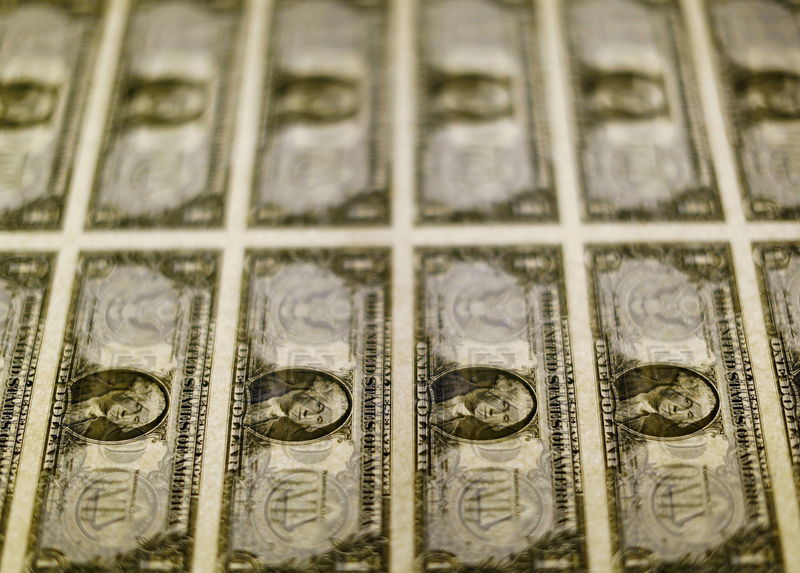 © Reuters. Dollar holds steady vs. rivals amid political jitters
Investing.com – The dollar pared gains against other major currencies on Monday, as uncertainty over the fate of a major U.S. tax overhaul and political turmoil in Germany dominated market sentiment.
The House of Representatives on Thursday passed a bill that would lower corporate taxes and cut individual taxes for most households in 2018, in a step towards the biggest U.S. tax code overhaul since the 1980s.
But the legislation may face a tougher fight in the Senate amid resistance within Republican ranks. Senate lawmakers are expected to vote on their version of the bill after this week's Thanksgiving holiday.
Markets were also jittery due to an ongoing investigation into potential Russian interference in the 2016 Presidential election.
The U.S. dollar index, which measures the greenback's strength against a trade-weighted basket of six major currencies, was steady at 93.54 by 05:15 a.m. ET (09:15 GMT), off session highs of 93.95.
EUR/USD was little changed at 1.1794, while GBP/USD gained 0.42% to trade at 1.3272.
Sentiment on the euro was fragile after German Chancellor Angela Merkel said she failed to form a government coalition, sparking concerns that a new election may be in order.
The Free Democrats Party (FDP) unexpectedly left the negociation table Sunday, leaving Merkel's conservative camp and the Green party with no coalition agreement.
If no government is formed, German President Frank-Walter Steinmeier can call a new election. Chancellor Merkel was set to meet with the President later Monday.
Elsewhere, the yen and the Swiss franc were steady, with USD/JPY at 112.14 and with USD/CHF at 0.9892.
The Australian dollar was almost unchanged, with AUD/USD at 0.7564, while NZD/USD adding 0.25% to 0.6833.
Meanwhile, USD/CAD eased up 0.09% to 1.2771.
sponsoredArticle = 'div-gpt-ad-1466339494851-0';